Personnel Department
Employment | Publications | Forms | Benefit Options | Ethics | Management Portal | Time Clock
Contact Information
Address
Cullman County Commission
Personnel Department
500 Second Avenue SW, Room 109
Cullman, AL 35055
Our Mission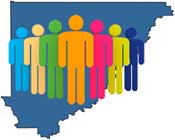 The Cullman County Personnel Department is responsible for a comprehensive human resource program, including, but not limited to:
Recruitment of qualified applicants into a diverse workforce
Employment and orientation services
Retirement processing
Administration of employee benefits
Payroll administration and processing
Policy development and administration
Job classification, compensation and labor market research
Employee relations
Maintenance of personnel records
Maintenance of the Cullman County personnel and payroll database
Administration of performance evaluation programs and employee grievance process
The Cullman County Personnel Department is committed to providing high quality service to all prospective, current and past employees and to treating such individuals with respect, good care and individual attention.
Cullman County Commission is an Equal Opportunity Employer and is committed to providing equal opportunities for all persons regardless of race, color, gender, age, national origin, citizenship status, or disability. This commitment applies to all aspects of the employment relationship.