Contact Information
Name
Position
Telephone
Randall
Waldrep
Director
Bonnie
Yarbrough
Office
Manager
Kip
James
Super. of
Construction
Phone
Support
256-734-2900
Address
2020 Beech Ave, SE
P.O. Box 1084
Cullman, AL 35056
Hours
Monday - Friday: 7am to 3:30pm
About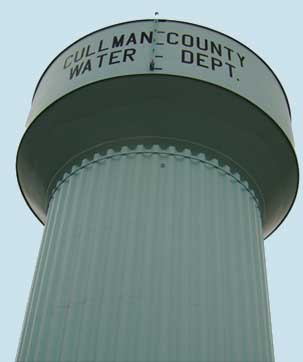 The Cullman County Water Department is the 3rd largest water service system in Alabama, providing safe drinking water to over 14,000 customers in Cullman, Morgan, Walker and Winston counties. Each day our employees work to ensure that the water we provide meets all regulatory requirements and our customers expectations for safety, reliability, and quality.
Cullman County Water Department strives to meet all guidelines to provide safe drinking water. At this time we are in the process of upgrading in various areas of the system to ensure the highest quality of water possible.
We are partners with the City of Cullman on the Duck River Project.
View our Staff Chart.
Downloads